Conversation not navigation - the future of websites
There are more than 1.2 billion websites globally - and studies show most people don't know where to look to find basic information because often navigation labels, menus and tabs are so confusing. So with this in mind VERSA took the challenge to engage visitors by revolutionising navigation and taking hyper-personalisation to the next level. 

We delivered a global first navigation-less and bot-activated website - https://versa.agency. Where customers tell you what they want and relevant content is delivered to them. Using chatbot technology we dynamically generate content based on the two-way conversation with the website visitor in real-time. 
Yes, it's different. So different it can be hard for people to get their head around how it works until they experience it in action – so we decided to show what is now possible by building it for our own website. 
This is a game-changer for website design, communications and marketing. Why? Because it delivers a true human-centred experience that not only eliminates menus and tabs – it gets rid of all the problems associated with them.
Navigation makes the customer do all the work to find what they are looking for. Not anymore, with our navigation-less design. They ask, they get - from a digital concierge. 
Cutting the confusion
Research shows just how difficult users find menu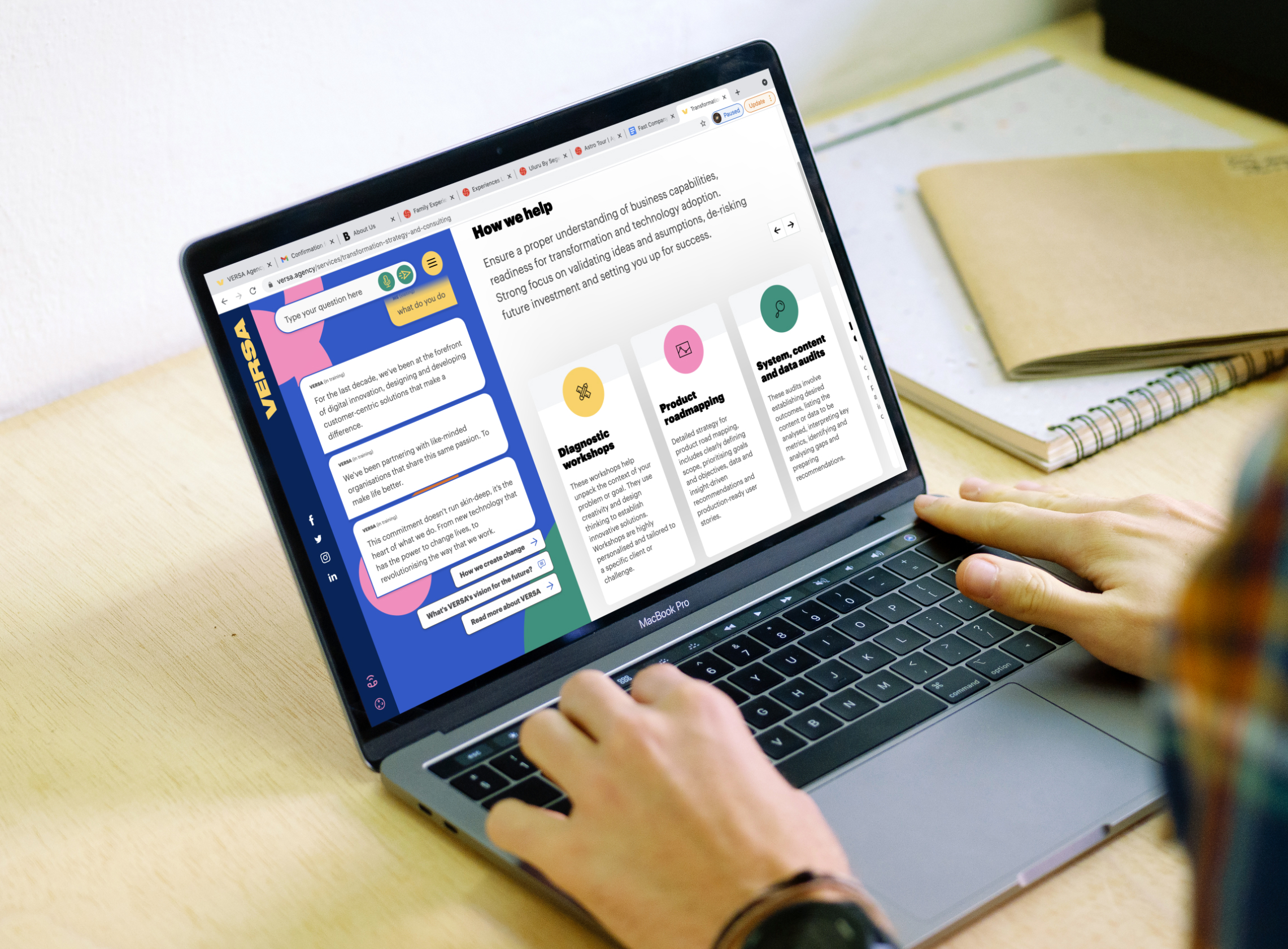 navigation when searching for basic information. Why? Because all those generic, often vague and non-specific names like 'products', 'solutions', 'services' and 'resources' seem interchangeable and overlap. 
When survey participants were asked to choose where they would expect to find specific pieces of information from menu options, the result was digital chaos – and the same occurred regardless of gender, geography, income and education. 
The researchers called that confusion and frustration 'navigation paralysis' and 'failure'. At the time of the study in 2018, the proposed solution was to 'make labels as specific and clear as possible and to let your customers tell you how you should be organising your offering'. 
New technology means new opportunities
In 2021, we have a better solution.

Don't use labels and don't force visitors to try and find an answer, like a mouse in a maze looking for cheese that they may or may not reach.
The technology wasn't ready before. It is now. We couldn't have built and launched this even a year ago. But we've reached one of those magical moments in business and technology where the nexus between inspiration and innovation makes the iteration possible. 
The technology we have utilised has made it out of the sandbox and matured to the point where it can take development to the next level. We've used the very latest in platform technology to bring the navigation-less experience to life.
Faster, easier, better
A navigation-less website makes it easier for users to find what they want quickly, without going down a rabbit hole of endless scrolling, searching, and head-scratching.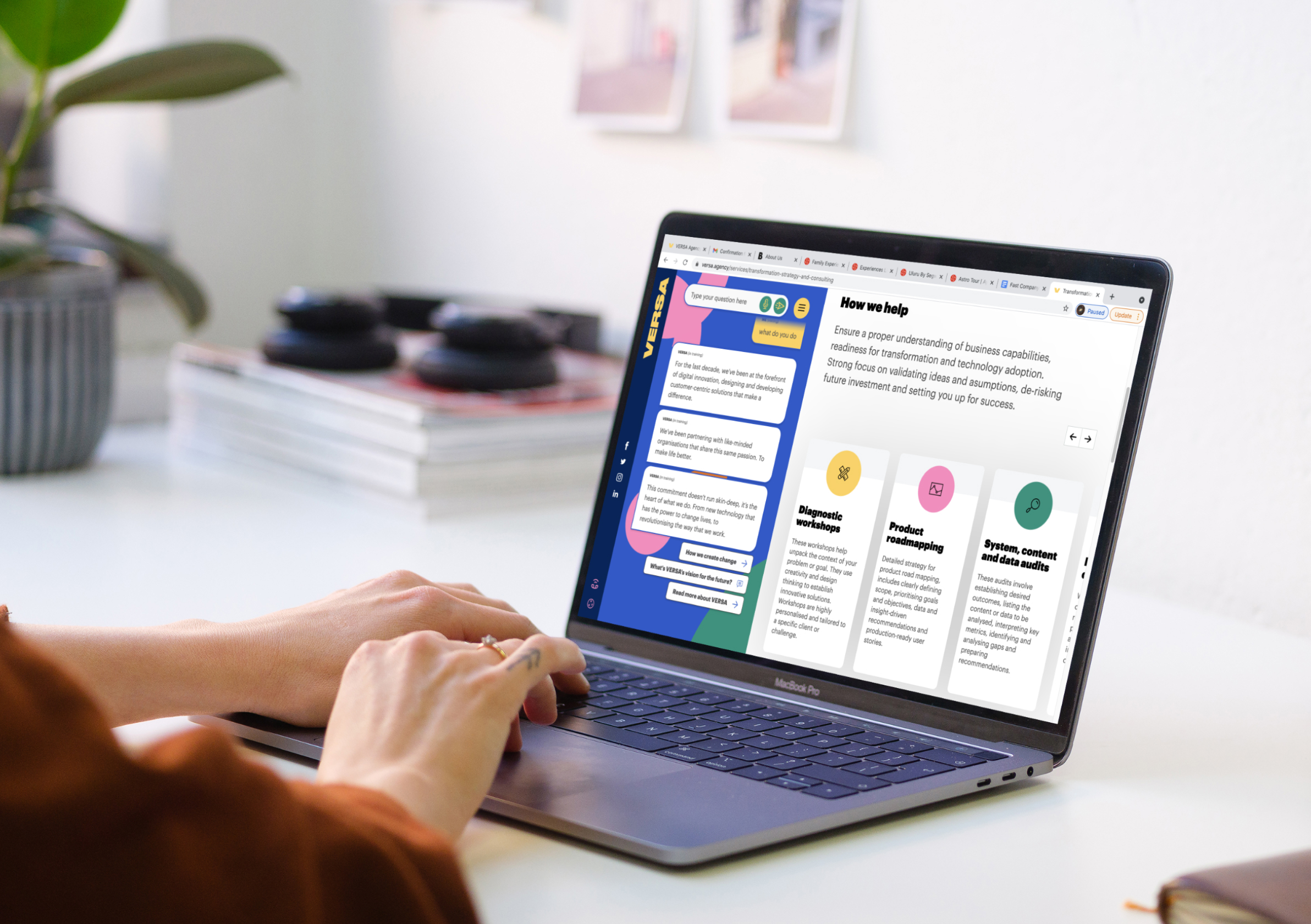 It also rectifies the problem of impatient website users who have become conditioned to instant information gratification (thanks Google). People now expect an efficient and seamless experience from websites, apps and products, not just from search engines. 
Navigation-less websites deliver that – whilst also creating interactive conversations with the user. That's a big difference. Search engines are one-way, navigation-less is two-way.

Personalised context, content and conversations
Our industry has spent the last 10 years trying to build human-centred designs using research techniques such as useability, eye tracking, building personas.  Navigation-less website changes everything because it asks the one person that matters – the user of the website - how can we help 'you'?. 
Two-way conversational interactions give you context. It's a hyper-personalised experience, where every single user's story and journey is a different, bespoke one, based on where they start and the context of the conversation.
The AI bot's ability to interpret, understand and fetch data instantly means you can collect and mine more accurate data.  Gaining better insight to deliver hyper-personalised experiences, content, information and recommendations – without the need for users to log in.
Those insights mean you can continually adapt content and offerings and build a knowledge base that meets changing needs, demands and questions.
An accessible future
Importantly, in a world finally shining a light on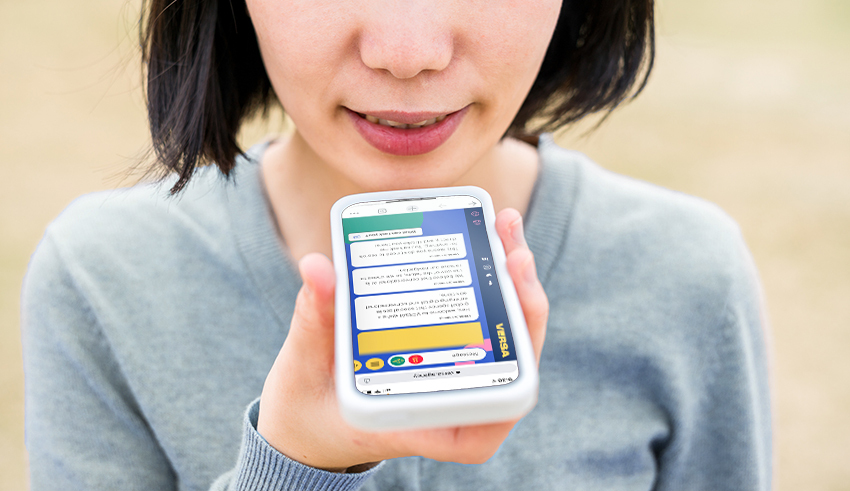 addressing inclusion and accessibility, navigation-less websites have the potential to make content and answers available to all – regardless of language, literacy levels and physical abilities.  When users can ask for what they want in their own words, in their own language, it doesn't matter if they're a non-English speaker, have low literacy, are vision impaired or an elderly person with dexterity issues. It democratises access to information through conversation.
Search has never been easier
That's not all, navigation-less websites also help improve your SEO. You have the flexibility to create thousands of content pages– and keep adding them - without having to find a place under a conventional navigation hierarchy. The search engines can still find and trawl your content for SEO, but your visitors won't have to – they'll be served with relevant content when they ask for it.  
Brave new world? Maybe. Exciting new world? Definitely. One that we hope we eventually won't be just talking about. Because it won't be an eye-popping first anymore. It will be the norm.