E-sports Isn't The Place For Traditional Sports Sponsorship Marketing
Professional sports and brand sponsorship have a long and lucrative history. With guaranteed audiences in the millions, sport has always represented a good return on investment for those with enough money to get in on the action.
With teams from major sports demanding huge sums for the privilege of sponsorship, all forward-thinking brands are always on the lookout for the next big sporting opportunity before it breaks into the mainstream. With a projected industry value of $1.5 billion by 2020, E-Sports is shaping up to be exactly that.
Chances are, you own or have owned a games console. I can remember the friction burns generated playing International Track and Field, the evenings lost to Call of Duty and what it meant to be the best FIFA or PES player in your class.
E-Sports: A Ludicrous Market
As the most popular games developed to include online multiplayer, vast communities sprang up to compete for coveted places on international leaderboards. It was only a matter of time before game studios, recognising the potential, started to put on tournaments to highlight their games. E-Sports had arrived.
So with a growing audience of close to 400 million, can brands use traditional models of sponsorship to gain access to the elusive 21 to 35-year-old male?
In short, no.
The computer game industry is huge (worth about $25 billion in the US alone) but presents a serious barrier to entry for brands just wanting to slap on a logo.
Games are created as worlds all of their own and although some product placement has been attempted, it has never been a natural fit, often facing harsh criticism from the highly vocal gaming communities.
So why, and how, are forward-thinking brands like Coke, Audi and Red Bull investing in E-Sports? Well, it turns out that the tournaments are only part of the picture.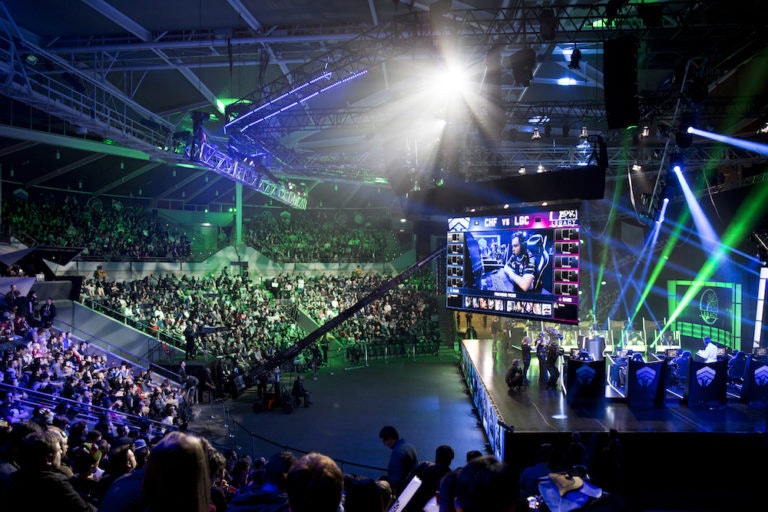 There are bigger opportunities within E-Sports, and that's live broadcast gaming. Amazon recognised its potential early when it brought Twitch for what now seems like a very reasonable $970 million back in 2014.
Twitch is a social video sharing platform that allows users to live broadcast themselves as they play a game. It has become immensely popular, boasting over two million unique streamers per month and close to 10 million active daily viewers.
It is this audience the likes of Coke and Audi are interested in, and with an average of 106 minutes watched per person per day, it's surprising all brands aren't sitting up and taking notice.
The Elusive "Athletes" of E-Sports
Some may struggle to understand why anyone would want to sit and watch someone play a game hour upon hour. But the reality is, why they do doesn't matter.
All that matters is that we know that they are and that those numbers continue to rise. One potential reason might be linked to another unique element of E-Sports. Access to players.
Unlike mainstream sports, where the God-like status of players means they are usually out of reach, E-Sports' collaborative nature means players are able to talk directly to their heroes. All successful players have a channel on Twitch where they broadcast their every moment in-game.
These live streams are not limited to just high-profile tournaments. Each streamer has their own style which can include training sessions, game walk-throughs and even coaching where you can pay to play alongside your favourite star. Each channel also has a live chat element allowing for spectators to talk to each other and directly to the players, who regularly respond in real-time.
These channels allow players to gain a profile and monetise their activities. This takes the form of branding they can add to their page and endorsements they can mention during the chat that accompanies every broadcast.
Twitch also offers an ad-revenue-sharing programme to incentivise top streamers to keep posting content, which takes two forms.
Surestream, which embeds prerolls at the start of broadcasts, is run by Twitch, but the ads are controlled by players themselves. This marks an important switch for brands used to traditional broadcasting rules. It is now the players who choose when they run an ad or mention a product, not Twitch or the brands themselves.
Can Mainstream Brands Generate Profits in E-Sports?
The lack of control in how and when a brand's message is delivered is the most daunting prospect for those considering entry. Yet, as paying subscribers to these channels continue to rise, it becomes harder and harder to ignore the potential to connect with this vast and normally hard-to-reach 21 to 35-year-old male audience. But this channel also demands new approaches from brands wanting to be seen as in it for more than the exposure.
Coke has worked hard to ensure its involvement, over the past four years, is seen as more than just a logo slap exercise. Beyond sponsoring of tournaments, Coke hosts viewing parties at cinemas across the US, a move recognised by players and fans as supporting the development of the sport.
Unsurprisingly, PepsiCo was hot on Coke's heels when they worked closely with Optic Gaming to advertise Mate, their energising tea line. They bravely stepped back from the creative process and gave full creative control to those involved. The result was 46 custom videos that accumulated over seven million views.
It is clear that for brands willing to risk playing by a new set of rules the potential returns are huge.
But brands beware. This is not a passive audience. The E-Sports industry is built on interaction, and brands whose products or services are not up to scratch will have that message broadcast to the same audience they are trying to win over.
E-Sports players, and their audiences, are educated and vocal in their desire for an honest and open relationship with advertisers. For many, those risks are simply too intimidating, but for brands that truly believe in their products, E-Sports is an area that can no longer be ignored.